Standard Worded Inhalation Hazard Class 6.1 Removable Vinyl Placard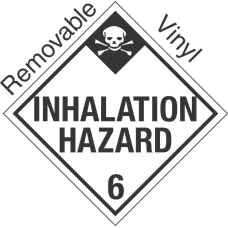 Price per Package of 50 Placards
$13.50
50 or more
$0.27
1000 or more
$0.25
Qty:
This product has a minimum quantity of 50
MPN# P335 - Laminated Removable Vinyl Placard - Package of 50 Placards - Designed in accordance with DOT regulations 49CFR part 172.500
Part No P335 - Standard ( With Wording ) Inhalation Hazard Class 6.1 Removable Vinyl Placards are Normally used for Domestic Shipments by Highway, Rail, and Water Shipments, but can be used Internationally in some instances. These placards are designed to meet DOT specifications for color, size, and durability. These placards are manufactured on outdoor grade vinyl using a clear laminate to prevent peeling, chipping and fading.
Removable Vinyl Placards are great in shipping conditions where short and long term use is required.

Economical Removable adhesive coated placards can be removed at destination with little or no adhesive, or can be left in place for longer term use.

Removable placards are produced on exterior grade vinyl, and are laminated with a film for exceptional resistance to outdoor conditions.

Vinyl placards are printed with durable Fade-Resistant inks and measure 273 mm x 273 mm (10 3/4" x 10 3/4").

These vinyl placards can be applied directly to truck or tank. No need for a separate placard holder for mounting.

Required for easy identification of hazardous loads.

Meets HM-215B Requirements

Inhalation Hazard Class 2.3 and Class 6.1 (White Skull on Black Background) Placards are normally used for Domestic Shipments Only
Removable-Adhesive Vinyl Placards are sold in packs of 50 each / Price is per each Placard
Specifications
Adhesive
Removable Adhesive (Can be removed at destination)
Hazard Class Description
Inhalation Hazard
Material
Vinyl with Removable Ahesive
Origin
Printed in U.S.A.
Packaging (Roll, Pack)
Package of 50 Placards
Price Per
Price is per each Placard
Product - Height x Length
10 3/4 x 10 3/4 (273mm x 273mm)
Product Color
Black and White
Product Weight
2.5 lbs.
Hazard Class Number
Class 6.1
Shipping
Shipping
Normaly Ships the same day as ordered