Explosive Class 1.1D NA or UN0220 International Wordless 20mil Rigid Vinyl DOT Placard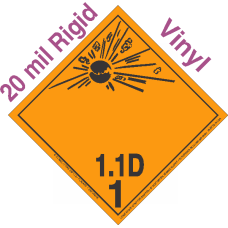 Price per each Placard as low as
$0.75
25 or more
$2.90
50 or more
$2.00
100 or more
$1.70
250 or more
$1.50
500 or more
$1.20
750 or more
$1.07
1000 or more
$0.95
2500 or more
$0.75
Qty:
This product has a minimum quantity of 25
Part Number

-

R11D-INT-0220 -

Packaging

-

Sold Individually

Material

-

20mil Rigid Vinyl
Proper Shipping Name(s) (Taken from CFR Title 49 Paragraph 172.101)

UN-NA0220 Class 1.1D Urea nitrate, dry or wetted with less than 20 percent water, by mass
For more Detailed information on this UN Number
Placards are required by 49 CFR 172.500 for highway, rail and water shipments of hazardous materials. Designed to meet DOT specifications for color and size.

Non-adhesive, 20-mil rigid vinyl placards are perfect for repeated usage in a holder and when the placard will be used for multiple trips and in harsh weather conditions.

Vinyl placards are printed with durable Fade-Resistant inks and measure 273 mm x 273 mm (10 3/4" x 10 3/4").

Rigid Vinyl Placards do not have adhesive.

Required for easy identification of hazardous loads.

Meets HM-215B Requirements

Complies with International Air Transport Association (IATA), International Civil Aviation Organization (ICAO), and International Maritime Organization (IMO) dangerous goods regulations.

Sold by the individual piece.
Specifications
Adhesive
N/A (No Adhesive)
Hazard Class Description
Explosive
Material
20mil Rigid Vinyl
Origin
Printed in U.S.A.
Packaging (Roll, Pack)
Each
Price Per
Price is per each Placard
Product - Height x Length
10 3/4 x 10 3/4 - (273mm x 273mm)
Product Color
Orange / Black
Product Weight
0.14 lbs. each
Hazard Class Number
Class 1
Shipping
Shipping
2-5 Working Days