Explosive Class 1.3J NA or UN0247 Tagboard DOT Placard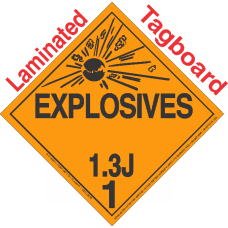 Price per Package of 50 Placards
$40.00
50 or more
$0.80
100 or more
$0.60
250 or more
$0.46
500 or more
$0.35
1000 or more
$0.25
Qty:
This product has a minimum quantity of 50
Part Number

-

T13Jc-0247 - Laminated Tagboard Placard

Packaging

-

Pack of 50 Placards

Material

-

Laminated Tagboard - Non-Adhesive
Proper Shipping Name(s) (Taken from CFR Title 49 Paragraph 172.101)

UN-NA0247 Class 1.3J Ammunition, incendiary liquid or gel, with burster, expelling charge or propelling charge
Tagboard Placards do not have adhesive and are generally made to be used in some form of placard holder.

Economical tagboard placards are produced on durable 200 lb Tag-board and are laminated with a film for exceptional resistance to being "Blown Out" in rain, snow, sleet and humid weather conditions.
Tagboard placards are printed with durable Fade-Resistant inks and measure 273 mm × 273 mm (10 3/4" x 10 3/4").

Tagboard placards are commonly used when return of the placard is not possible.

Meets HM-215B Requirements

Complies with International Air Transport Association (IATA), International Civil Aviation Organization (ICAO), and International Maritime Organization (IMO) dangerous goods regulations.