UN3478 Removable Vinyl DOT Orange Panel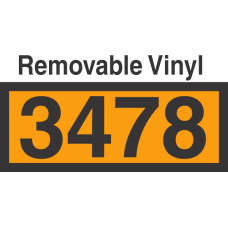 Price per Package of 50 Panels
$150.00
50 or more
$3.00
100 or more
$2.00
250 or more
$1.50
500 or more
$1.00
1000 or more
$0.74
2500 or more
$0.60
Qty:
This product has a minimum quantity of 50
MPN# POPZR3478 - Laminated Removable Vinyl Orange Panel - Package of 50 Placards - Designed in accordance with DOT regulations 49CFR part 172.500
Proper Shipping Name(s) (Taken from CFR Title 49 Paragraph 172.101)

UN 3478 Class 2.1 Fuel cell cartridges or Fuel cell cartridges contained in equipment or Fuel cell cartridges packed with equipment, containing liquefied flammable gas
Removable Vinyl Orange Panels are great in shipping conditions where short and long term use is required.

Economical Removable adhesive coated Orange Panels can be removed at destination with little or no adhesive, or can be left in place for longer term use.

Removable Orange Panels are produced on exterior grade vinyl, and are laminated with a film for exceptional resistance to outdoor conditions.

Vinyl Orange Panels are printed with durable Fade-Resistant inks and measure 400 mm x 160 mm (15 3/4" x 6 1/4").

These vinyl Orange Panels can be applied directly to truck or tank. No need for a separate orange panel holder for mounting.

Required for easy identification of hazardous loads.

Meets HM-215B Requirements

Complies with International Air Transport Association (IATA), International Civil Aviation Organization (ICAO), and International Maritime Organization (IMO) dangerous goods regulations.
Removable-Adhesive Vinyl Orange Panels are sold in packs of 50 each / Price is per each Placard
Specifications
Adhesive
Removable at Destination
Hazard Class Description
Flammable Gas
Material
Laminated 4.1 mil Outdoor Grade vinyl
Origin
Printed in USA
Packaging (Roll, Pack)
Package of 50 Panels
Price Per
Price is per each Placard
Product - Height x Length
15 3/4" x 6 1/4"
Product Color
Orange / Black
Product Weight
2.3 Lbs / Pack of 50
Shipping
Shipping
Normally ships within 24 hours. Longer lead times may be expected on quantities over 1000 pcs. Shipping is FOB Stilwel, KS 66085