Freight Transport Pro Label Book 5.5 inch 6 Labels per Page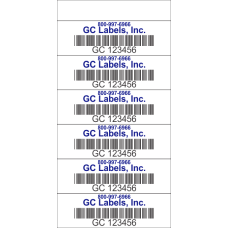 Price per pad of 25 label sheets
$1.10
Qty:
This product has a minimum quantity of 320
This is a standard 4 1/2" book with 25 sheets with 6 labels on a sheet. Each individual label will be 2 3/4" x 13/16". Cover can be modified as needed. Your art will replace the GC information on the Pro Labels. If your needs are different, please email us, or call for specific information.
Pricing listed is per Freight Pro Book. The standard minimum quantity at the listed prices is 320 books, or 8000 sheets of 4 labels per sheet (8000 total different numbers). Standard packaging is 160 books per carton, or 4000 numbers per carton.
All of the above is subject to your requirements, and can be changed as needed. There are so many variables, layouts, symbologies, etc., that the layouts on this site are for reference purposes only, and to give general pricing. On any order, we will send you a proof of exactly what your book will look like before we print them.