Lithium Battery Label LR27 2017 Custom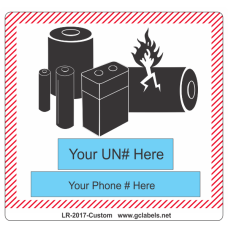 Price per Roll of 500 Labels
$46.50
2 or more
$42.50
5 or more
$37.50
10 or more
$30.50
40 or more
$26.50
Part Number

-

Lithium Battery Label LR27 2017 Custom - Lithium Battery Label

Packaging

-

500 Labels per Roll - Price per roll of 500 Labels

Material

-

Permanent Adhesive Paper
These labels Comply with IATA section 7.1.4.1. 2017 Lithium Battery Guidance Document, HM 215B, ICAO, PHMSA, CFR Title 49 Subtitle B Chapter I Subchapter C Part 173 Subpart E §173.185 when applicable.
The newly designed Lithium Battery Mark is required on packages carrying lithium ion or lithium metal batteries. The marking size is 120mm x 110mm and the label size is 120mm x 115mm. These Lithium Battery Labels are printed on semi-gloss paper with permanent adhesive and sold in rolls of 500. These marks became effective January 1, 2017 and have now been officially adopted into the CFR Title 49.
For more information on the requirements in the CFR, click on the link below for the latest information from the
Government Printing Office Electronic Code of Federal Regulations
The two blue boxes are the area for your custom information. We will email a proof prior to imprinting these labels.
Specifications
Material
Paper
Origin
Printed in The U.S.A.
Packaging (Roll, Pack)
Roll of 500 Labels
Price Per
Price is per Roll of 500 Labels
Product - Height x Length
120mm x 110mm
Product Color
Red Black and White
Product Weight
2.5 lbs per roll
Shipping
Shipping
Normally Ships Within 24-48 Hours