Standard Worded Inhalation Hazard Class 2.3 20mil Rigid Vinyl Placard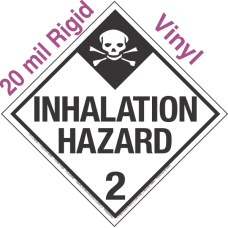 Price per each Placard as low as
$0.69
25 or more
$2.90
50 or more
$2.00
100 or more
$1.70
250 or more
$1.50
500 or more
$1.03
750 or more
$0.93
1000 or more
$0.83
2500 or more
$0.69
Qty:
This product has a minimum quantity of 25
Part Number

-

R336 - Standard Worded Inhalation Hazard Class 2.3 20mil Rigid Vinyl Placard

Packaging

-

Sold Individually

Material

-

20mil Rigid Vinyl
Placards are required by 49 CFR 172.500 for highway, rail and water shipments of hazardous materials. Designed to meet DOT specifications for color and size.

Non-adhesive, 20-mil rigid vinyl placards are perfect for repeated usage in a holder and when the placard will be used for multiple trips and in harsh weather conditions.

Rigid Vinyl placards are printed with durable Fade-Resistant inks and measure 273 mm x 273 mm (10 3/4" x 10 3/4").

Rigid Vinyl Placards do not have adhesive.

Required for easy identification of hazardous loads.

Meets HM-215B Requirements

Inhalation Hazard Class 2.3 and Class 6.1 (White Skull on Black Background) Placards are normally used for Domestic Shipments Only

Sold by the individual piece.
Specifications
Adhesive
N/A (No Adhesive)
Hazard Class Description
Inhalation Hazard
Material
20mil Rigid Vinyl
Origin
Printed in U.S.A.
Packaging (Roll, Pack)
Each
Price Per
Price is per each Placard
Product - Height x Length
10 3/4 x 10 3/4 - (273mm x 273mm)
Product Color
Black and White
Product Weight
0.14 lbs. each
Hazard Class Number
Class 2.3
Shipping
Shipping
2-5 Working Days