Terralink Hazardous Waste Management Software
Scroll Down for a list of our Waste Label Formats that are Fully Functional with TDXLite™ Software
Compile shipments quickly and easily by tracking and recording waste profiles, containers, approvals, and TSDF information.
Terralink TDXLite™ hazardous waste and materials management software is a low cost software solution for those companies that only need to print hazardous and non hazardous waste manifests, bill of ladings, and labels. Terralink Data eXchange Lite (TDXLite™) was built with limited features and functionality in order to keep the cost down, yet it utilizes a real database unlike competing products in it's price range.
Terranlink TDXLite™ shares some of the same robust technology as the full featured TDX™ program at a budget minded cost. Search, sort and organize your manifests for easy retrieval and more.
Click here to submit a request to download a 30-DayFully Functional Demo
------------------------------------------------------------------------------------------------------------------------------------------------------------------------------------------------

------------------------------------------------------------------------------------------------------------------------------------------------------------------------------------------------
Features
| | | |
| --- | --- | --- |
| • Hazardous and Non-hazardous Waste Manifest Printing | | • DOT Hazardous Materials table |
| • Bill of Lading Printing | | • Built in ERG Pages |
| • Label Printing | | • Built in EPA / State Waste Codes |
| • Full Database Functionality | | • Report capabilities for contacts and Manifests |
| • Upgradeable to the full version without loss of data | | • Expandable by purchasing additional label templates |
| • Print directly onto your hazardous and non hazardous waste labels from information that was previously entered on your manifest | | • Utilizes a robust relational database capable of saving an unlimited number of documents, limited only by your hard drive space |
| • DOT Hazardous Materials table, EPA and state waste codes, and Emergency Response Guidebook pages are all built in. | | • TDXLite™ organizes your generators, transporters,TSDFs, manifests, and even allows you to print or export your contacts. Copy, paste and edit routine shipping documents to save valuable time. |
| • NEW FEATURE: An attachments feature allows you to attach files to your manifests or contacts in the database. Attach fully signed and executed PDF copies of your manifests to the digital version in the database for easy search and retrieval. | | • NEW FEATURE: Expanded search and reporting capabilities. Our sophisticated search tool will allow you to search for a list of manifests or contacts utilizing multiple search criteria. You can then run a Contact Detail Report, or Manifest Detail Report from your results. |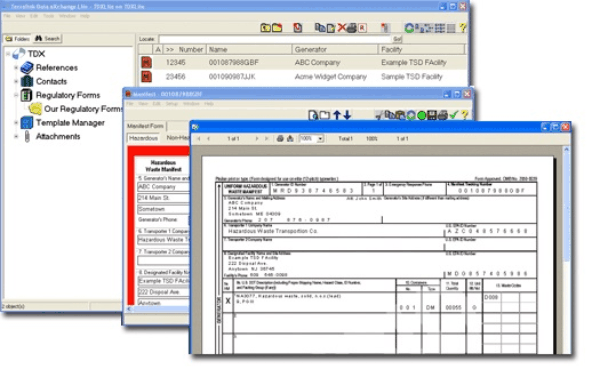 ------------------------------------------------------------------------------------------------------------------------------------------------------------------------------------------------
Minimum System Requirements:
• Microsoft Windows 2000 or higher.
• Pentium 4 class processor or better
• Per processor: 512MB recommended (XP/W2K), 2G recommended for Vista
• 500MB of free disk space
• 5400 rpm disk drive (7200 or higher recommended)
------------------------------------------------------------------------------------------------------------------------------------------------------------------------------------------------
Showing 1 to 34 of 34 (1 Pages)